Kirsti Ijäs de Fluiter
Born and raised in Finland I worked after I have finished my education as a head nurse, did hospital management and later marketing for medical systems companies. Via the Red Cross Organization I have participated in several missions to various countries like Jordan, Bangladesh and Thailand. Before I came to the Netherlands, I have lived in a number of countries e.g. Swiss and South Africa.
.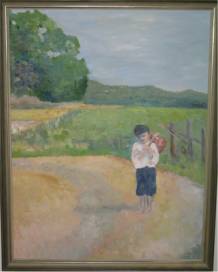 It was my Finnish art teacher who encouraged me to start painting. She gave me an old palette, some brushes and a number of paint tubes. After some years of painting as a "hobby" I started in the sixties to study the painting theory, first in Kuopio Finland and afterwards in the Netherlands. Showing my paintings at exhibitions came from various contacts. Now I have my diplomas from the " Acedemie voor Schone kunsten in Arendond, Belgium". Where I completed the full study and also did my specialization. This specialization was not to use only oil paint but mix it with other materials, sand and acryl and to deepen my own style.
My inspiration I find often in the nature, this is part of my Finnish inheriting. In the nature there is an endless number of possibilities from the trees to snow and within the different seasons. My painting comes from my inside, that what I want to express and what is beautiful to show. The fact that I have lived in many places in this world has for sure influenced my work.
Were my first paintings more figurative and realistic now they are often much more abstract. Still I try to show within an abstract painting some figurative parts. I am using a lot of paint and large brushes and or palette knife and in this way the painting will come alive by itself.